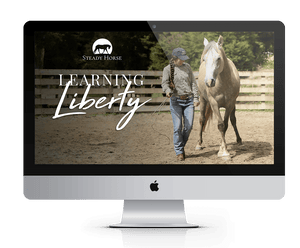 Learning Liberty
Regular price $497.00 Sale
Learning Liberty will teach you a way to connect with your horse...
A method based on love, trust, and WITHOUT bridles, harsh whips, or tack.
After purchasing the course you'll get Instant Unlimited Lifetime digital access to it so you can start watching now!
Here's what you get:

Module 0: Understanding Liberty ($97 value) - Learn the basics of what Liberty is, what it means to me, and why it's so valuable for both you and your horse.
Module 1: Establishing a Connection ($97 value) - Discover how to connect with your horse so that the moment you step in the ring, they are focused and listening to you.
Module 2: Creating Softness ($97 value) - Train softness with flex training. Cultivating softness is one of the most important aspects of Liberty.
Module 3 - Building the Backup ($97) - Train 2 types of backing up. The correctional back up and the Liberty back up.
Module 4 - Mastering Movement ($197 value) - Learn how to move your horse in a variety of ways. Including yielding, side passing, and funneling.
BONUS: Trick Training Secrets ($197 value) - A free, bonus course that will teach you three amazing and fun tricks to challenge yourself and your horse.
Access to the Learning Liberty Support Community: Get in touch with us, along with other students, so you can get help overcoming any obstacle!