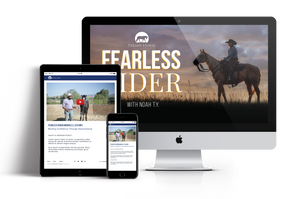 Fearless Rider Course
Regular price $5,800.00 Sale
Bottom line, my Fearless Rider Course will teach you how to
be safe, have fun, and bond with your horse in no time at all...
and you'll LOVE the bonuses!
If You Don't See An Immediate Improvement In Your Relationship with your Horse (Even If It's 29 Days, 23 Hours, and 59 minutes From Now), Just Let Me Know And I'll Give 100% of Your Money Back.
Here's What You're Going To Get
The Fearless Rider™ Course ($9,997 value): The full length video course including 10 modules with over 25 hours of content so you can have a safer, happier relationship with your horse. You'll get lifetime access to this course.
Fearless Rider™ Support Group (PRICELESS): You'll have access to the exclusive Fearless Rider™ Community, where you can ask questions and get help. Any frustrations you may encounter along the way, we'll be here to make sure you get the most out of this course!
Bonus Course: Beginner Horsemanship ($197 value): A step-by-step course on how to work with a horse that's never been haltered or saddled.
Total Value: $10,194 (Only $5,800 Today)