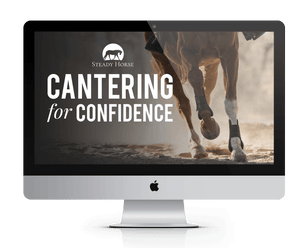 Cantering for Confidence
Regular price $297.00 Sale
Cantering is a big milestone with any horse and rider. It's a sign that your bond has grown and that you've developed a good amount of trust, patience, and skill with your horse.

But cantering can also be a point of fear, and if done incorrectly, or rushed too soon, it can be dangerous.

That's why I've put together this course to teach you everything you need to know about cantering safely, with confidence.

I'll take you through every step, starting on the ground to know when you've reached the  level to start cantering. Then we'll get up in the saddle, and I'll hold your hand as we walk, trot, and finally, canter.

It's going to be a bunch of fun.