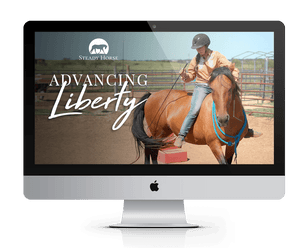 Advancing Liberty
Regular price $697.00 Sale
Advancing Liberty
builds on the foundations we establish in
Learning Liberty
to take you all the way from the ground to
riding confidently
with Liberty!
If you want to go deeper into your Liberty training, this is the place to start.
The Advancing Liberty course goes in-depth into everything you need to know to ride Liberty with confidence.
In it I go over the fundamentals of movement, communication, desensitizing, and finally riding! Most importantly of all, we focus on safety and trust, so that you and your horse can be calm, confident, and most importantly, safe.
If you've ever wanted to ride with no limits...
With nothing to come between you and your horse...
Full, instant access to the entire, online, Advancing Liberty course
Hours of high-quality, actionable training, spread out over 5 amazing modules.
24 hour support via email and our community to ensure that you're supported every step of the way.